!- estils del TDP> <!- Sobre HTML: http://www.webpersonal.net/avl3119/infmt2/h13.htm > <!- sobre l'estil: http://www.tizag.com/cssT/font.php > <!- Sobre fonts i small caps: http://www.w3.org/TR/CSS21/fonts.html#small-caps>
Aim and Scope
La revista Transactions on Data Privacy (TDP) és un fòrum internacional per investigadors en l'area de les tecnologies de privacitat de dades.
La revista publica recerca original i de qualitat. El TDP publica també articles de recerca, articles de revisió, tutorial, notes curtes i revisions detallades de llibres. Tots els articles seran enviats a revisar
La revista accepta submissions en les diferents disciplines relacionades amb la privadesa de dades (per exemple, mineria de dades, estadística, criptografia, bases de dades, comunicacions, etc. En relació als papers aplicats, s'accepten contribucions per a resoldre problemes en les àrees principals (per exemple, estadística oficial, comerç electrònic, salut, telecomunicacions, etc.). Els papers poden ser tan teòrics com aplicats. Nota important: només s'accepten papers en l'àrea de privacitat. Els papers que no siguin centrals en aquesta àrea no seran acceptats.
Indexing
The journal is currently indexed by DBLP, ACM Digital Library, Scopus, MathSciNet, and DOAJ: Directory of Open Access Journals.
It is indexed in Scimagojr with impact factors 0.525 (2010), 1.796 (2011), 1.275 (2012), 1.26 (2013) and classified in two categories: "Software" (Q2) and "Statistics and Probability" (Q3).
Publication
The journal is published under the sponsorship of the U. of Skövde, the IIIA-CSIC (Artificial Intelligence Research Institute of the Spanish Higher Research Council), the UNESCO Chair in Data Privacy and the Catalan Association of Artificial Intelligence (an ECCAI member).
Disclaimer
The views expressed in this journal are those of the authors or editors and they do not necessarily reflect the position of UNESCO nor commit that organization.

<!- Web de proves per taules i estils: http://www.somacon.com/p141.php > <!- Sobre borders: http://www.tizag.com/cssT/border.php > <!- Comenca la columna de la dreta> <!- el tag tr correspon a una ROW de la taula > <!- el tag td correspon a un element de la fila corresponent de la taula >
Follow us



Supports


IIIA-CSIC



<!- ACIA: Associació Catalana d'Intel·ligència Artificial >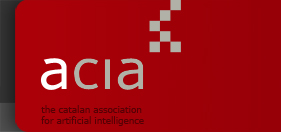 <!- Acaba la columna de la dreta>
---