!- estils del TDP> <!- Sobre HTML: http://www.webpersonal.net/avl3119/infmt2/h13.htm > <!- sobre l'estil: http://www.tizag.com/cssT/font.php > <!- Sobre fonts i small caps: http://www.w3.org/TR/CSS21/fonts.html#small-caps>
Aim and Scope
The aim of the Transactions on Data Privacy (TDP) is to provide an international forum for researchers on all topics related to data privacy technologies.
The journal will publish original and high quality papers. TDP welcomes archival research papers, comprehensive reviews, authoritative tutorials, short notes and comprehensive book reviews. All papers will be peer-reviewed.
The journal will accept submissions from multiple disciplines related to the various aspects of data privacy (e.g. data mining, statistics, cryptography, database technology, data communication, etc.). Regarding the application papers, contributions to solving privacy problems in the main application areas (e.g. official statistics, electronic commerce and Internet, healthcare, telecommunications, etc.) are welcome. Papers can be theoretical or applied. Important note: Only papers focused on data privacy will be accepted (e.g., we will not accept papers only dealing with cryptography or data mining tools).
Indexing
The journal is currently indexed by DBLP, ACM Digital Library, Scopus, MathSciNet, and DOAJ: Directory of Open Access Journals.
It is indexed in Scimagojr with impact factors 0.525 (2010), 1.796 (2011), 1.275 (2012), 1.26 (2013) and classified in two categories: "Software" (Q2) and "Statistics and Probability" (Q3).
Publication
The journal is published under the sponsorship of the U. of Skövde, the IIIA-CSIC (Artificial Intelligence Research Institute of the Spanish Higher Research Council), the UNESCO Chair in Data Privacy and the Catalan Association of Artificial Intelligence (an ECCAI member).
Disclaimer
The views expressed in this journal are those of the authors or editors and they do not necessarily reflect the position of UNESCO nor commit that organization.

<!- Web de proves per taules i estils: http://www.somacon.com/p141.php > <!- Sobre borders: http://www.tizag.com/cssT/border.php > <!- Comenca la columna de la dreta> <!- el tag tr correspon a una ROW de la taula > <!- el tag td correspon a un element de la fila corresponent de la taula >
Follow us



Supports


IIIA-CSIC



<!- ACIA: Associació Catalana d'Intel·ligència Artificial >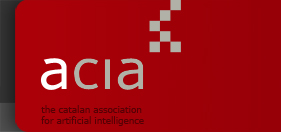 <!- Acaba la columna de la dreta>
---